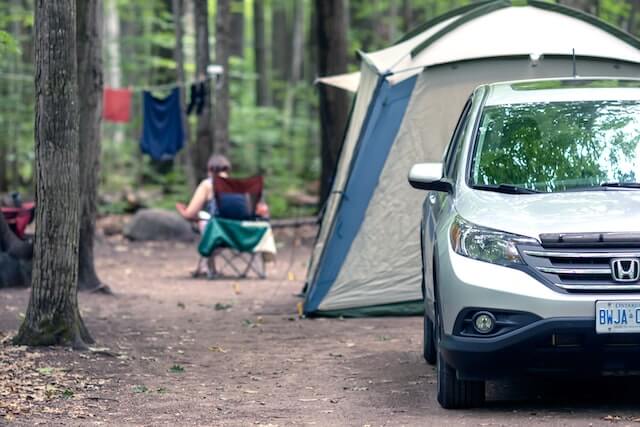 Discovering Nature: Victoria's Beginner Camping Hotspots
Camping is one of the best activities you can enjoy as a family. Go back to basics, explore nature together and toast delicious marshmallows on an open fire - there's no better feeling than an active outdoor adventure! You don't need to be a camping pro to enjoy camping. Whether you're into glamping or prefer family-friendly caravan parks with all the comforts of home, Victoria has something for every newbie camper.
If you need beginner camping tips and tricks, then take a look at this article, but if you are looking for campsites and caravan parks for your next camping trip, then keep reading for the best beginner campsites in and around Melbourne.
Glamping
Glamping is the perfect introduction to camping, blending nature with comfort. It offers the outdoor experience without the hassle of tent setups or giving up amenities. Ideal for beginners, glamping provides a taste of camping in a relaxed, luxurious environment, paving the way for future traditional camping adventures.
Discovery Tents at Point Nepean
The Discovery Tents within the historic Quarantine Station provide a unique camping experience in the picturesque Point Nepean National Park. Available from September to April, these standing-height tents, anchored to timber platforms, come with basic furniture. Campgrounds offer two and four-person sites with amenities like hot showers, toilets, and a camp kitchen complete with BBQs.
Each tent includes stretcher beds, mattresses, and storage space. Guests should bring pillows, linen, chairs, a torch, and personal items. The camp kitchen is equipped with cooking essentials, but guests are encouraged to bring their crockery and utensils. No personal camping vehicles or tents are allowed; however, nearby areas offer various accommodations.
Explore Point Nepean's historic sites by cycling. Bike rentals, including e-bikes, are available at the Quarantine Station. Biking is allowed on designated tracks; helmets are mandatory, and a lock is recommended to secure bikes.

Glamping at Park Lane Yarra Valley Holiday Park
Situated roughly 60km from Melbourne, Park Lane Yarra Valley Holiday Park offers a nature-focused escape. Amidst gum trees and lakes, visitors can experience the simplicity of camping with the comfort of glamping pods, equipped with basic luxuries like electric blankets and in-pod coffee facilities. The park not only provides unique accommodation but also diverse recreational activities. From tennis courts and walking trails to wildlife encounters, there's something for everyone.

The park promotes an eco-friendly yet entertaining experience. Highlights include the Pumptrack, suitable for various riders, and a giant jumping pad. For those seeking indoor fun, there's a recreation room, while culinary enthusiasts can make the most of the spacious camp kitchen.

To wrap up a day of exploration or play, guests can take a refreshing dip in the park's beach entrance swimming pool or savor a coffee from the on-site kiosk. At Park Lane Yarra Valley, the emphasis is on blending outdoor fun with the calming essence of nature.

Family Caravan Parks
Family Caravan Parks provide an ideal introduction to camping, especially for those looking for more than just the basics. These parks offer a comfortable blend of the traditional camping experience with added amenities. There's something for everyone, from swimming pools and fully-equipped camp kitchens to laundry facilities and dedicated play areas for kids. Additional features like jumping pillows and hire bikes further enhance the experience, ensuring that families can enjoy the outdoors while still having access to modern conveniences and recreational activities.
Big4 Phillip Island Caravan Park
Located around a 2-hour drive from Melbourne, the famous Phillip Island is a coastal destination famed for the colony of little penguins that visit the shores here in the evening.
Alongside cute critters, the caravan park is set within a stunning nature reserve featuring walking trails suitable for all, a beautiful stretch of beach and nearby attractions.
Big4 Phillip Island Caravan Park is a fantastic first-timers campsite thanks to the abundance of amenities and proximity to shops, restaurants and alternative accommodation options - just 500m away.
In the campsite - which has powered sites, unpowered sites and caravans - you'll find a kitchen area, laundry facilities, outdoor eating areas, communal BBQs, a playground, showers, games and recreation room and more.
There's plenty to keep the whole family entertained here. Fishing, surfing, and swimming are just some wonderful activities to enjoy during your stay, and the caravan park is pet-friendly too!
Marengo Family Caravan Park
Located around 3 hours from Melbourne, the fantastic Marengo Family Caravan Park is in a prime beachfront location at the beginning of the Great Ocean Walk. Although a fair distance from the city, this caravan park pulls out all the stops for an incredible first-time camping trip.
Pet-friendly, Marengo has several accommodation options, including stylish cabins and unpowered and powered campsites.
There's a fully enclosed camp kitchen, laundry facilities, family and disabled bathrooms, an outdoor BBQ area, and an adventure playground. Plus, the site is pet-friendly - so you can bring the furry friends along too!
The small town of Apollo Bay is just a short drive away. Restaurants, shops and alternative accommodation are all on offer in the town. The beach and surrounding coastal walks are stunning, with trails traversing nature reserves and pretty wooded areas.
Great Otway National Park is also within proximity, with its incredible landscapes, spectacular scenery and fascinating wildlife spotting opportunities.
Big4 Melbourne Holiday Park
Do you want to enjoy a relaxing camping trip without being too far from home? Then spend a few days enjoying the fantastic amenities on offer at the Big4 Melbourne Holiday Park.
Situated in the heart of the city with plenty of fantastic amenities, shops, restaurants and things to do right on your doorstep, this is a wonderful place to dip your toes into the camping lifestyle without heading too far.
There is a range of accommodation options on offer, from comfortable cabins to en-suite sites, powered sites and unpowered sites - great for those looking to disconnect a little while still having amenities nearby.
You'll find the usual amenities, such as a fully-equipped kitchen, laundry facilities, family bathrooms, BBQs and a playground. Several additional facilities make the Big4 Melbourne a standout camping spot. Kids will love splashing around in the pool; adults will enjoy the on-site spa, and the whole family can take advantage of the games room and many activities.
A brilliant campsite with so much to offer, enjoy a fun-filled camping weekend away with all the comforts of home.
BIG4 Breeze Holiday Parks - Eildon
Located minutes from the magnificent Lake Eildon and on the banks of Goulburn River, approximately 150km northeast of Melbourne, this BIG4 holiday park offers a water lover's paradise. The park presents a variety of sites, from unpowered to riverside ones.
Amenities here are aplenty, with basketball hoops, a mini-golf course, a swimming pool, a jumping pillow, a camp kitchen, plenty of pedal kites for hire, a kids' playground, and a recreation room.
Tarra Valley Retreat
The Tarra Valley Retreat is a mere 220km east of Melbourne, nestled in the Tarra-Bulga National Park. Serenity defines this campsite, with the sounds of the bubbling Tarra River and the sweet songs of the lyrebirds creating an enchanting atmosphere.
It's a moderately sized campground that accommodates tents and camper vans. You can choose between powered and non-powered campsites, with some situated directly on the riverbanks. They have a children's playground, BBQ sheds, Kitchen Huts (with a microwave, a fridge, a kettle, and a toaster) and a coin-operated laundry. Additionally, they provide fire drums for personal use, perfect for toasting marshmallows. The amenities block includes facilities for people with disabilities.
You can enjoy local bushwalks, take in the beauty of the Tarra Falls and Cyathea Falls or relax by the riverbank.
Halls Gap Lakeside Tourist Park
Located in the Grampians region, roughly 260km west of Melbourne, Halls Gap Lakeside Tourist Park offers a blend of adventure and relaxation. Against the backdrop of impressive mountain ranges, campers can choose between powered and unpowered sites.
You'll find top-notch amenities such as a heated swimming pool, playground, camp kitchen, and even Wi-Fi! There's a plethora of activities on offer, from hiking the iconic Pinnacle to spotting native wildlife like kangaroos and emus.
Torquay Foreshore Caravan Park
For those pursuing a beachy adventure, look no further than Torquay Foreshore Caravan Park. Just 100km southwest of Melbourne, this park is right on the doorstep of the famous Great Ocean Road.
Offering powered sites, unpowered sites and beach units, you're spoilt for choice. Its facilities boast a children's playground, BBQ areas, and direct beach access. Surf the renowned waves, stroll the picturesque esplanade, or bask under the sun.
Lilydale Pine Hill Caravan Park
At a convenient distance of just 40km northeast of Melbourne, Lilydale Pine Hill Caravan Park is a beginner's haven. Surrounded by rolling hills and vineyards, this pet-friendly park gives campers a taste of the Yarra Valley.
The campsite features powered and unpowered sites, en-suite cabins, and sites suitable for large caravans. Facilities include BBQs, a kids' playground, a camp kitchen, laundry and a solar-heated swimming pool. Explore the nearby wineries or the scenic Lilydale Lake, making your camping experience unforgettable.
Back to Nature Camping
National parks offer beginner campers a genuine connection to the wild. These campsites range in amenities, from basic toilets to those with hot showers and laundry facilities. It's an ideal way for newcomers to experience the outdoors, whether they prefer a rustic retreat or a site with more modern conveniences.
The Gums Campground
Situated in Kinglake National Park, just 65km northeast of Melbourne, The Gums Campground is a fantastic, family-friendly, beginner campsite for your next camping trip.
Nestled at the heart of a beautiful eucalyptus forest, this small but perfectly formed campsite has great facilities and plenty of scenic walks nearby.
There are 18 campsites in total, with five suitable for camper vans and caravans. You'll find shared picnic tables, wood fireplaces, a communal BBQ and non-flushing toilet facilities. Each campsite is separated by natural vegetation, allowing privacy for each group.
You'll find plenty of wildlife spotting opportunities in the stunning wooded areas of Kinglake National Park. There's a picturesque creek with picnic areas to enjoy lunch with the trickling sounds of the stream and varied walking trails suitable for everyone.
Cameron's Bight Campground
Located around an hour and a half's drive from Melbourne, the beautiful Cameron's Bight Campground is nestled on the tip of the Mornington Peninsula, offering incredible views of Port Phillip Bay.
The campsite has 65 unpowered sites and 59 powered sites, all hot showers, toilets, laundry facilities, BBQ areas and direct access to the beach. Some camping spots offer beautiful views of the beach and the bay and are great for families planning to spend plenty of time in the sand.
The surrounding area is picturesque woods with plenty of coastal walks along the beautiful stretch of sand. Plenty of small towns are located along the peninsula with restaurants, shops and alternative accommodation options if needed.
Enjoy a long walk from the campsite to one of the neighbouring towns and marvel at the stunning views over the bay. The camp is pet-friendly, too, so bring your furry friend along for plenty of coastal fun on these beautiful, safe beaches.
Lake Catani Campground
Found in the alpine region of Mount Buffalo National Park, around 330km northeast of Melbourne, Lake Catani Campground offers a serene setting with panoramic views of the lake and surrounding high country.
With 40 campsites catering to tents and camper trailers, facilities include flush toilets, hot showers, dishwashing and laundry sinks, and wood-fired BBQs. For cold rainy days, there is also a historic stone hut with benches, tables and two fireplaces for shared use. Dive into the lake for a refreshing swim, paddle across its calm waters or try your hand at trout fishing. Nature walks and hiking trails abound, making this a scenic gem.
French Island National Park - Fairhaven Campground
A ferry ride away from Stony Point, the secluded French island campground is a nature enthusiast's dream. The sites here are unpowered, giving campers a genuine back-to-nature experience.
Facilities are minimal, with non-flushing toilets and picnic areas, but the beauty of the island more than makes up for it. Spot a diverse range of wildlife, from koalas to echidnas, as you traverse the many walking trails.
Get out there!
With Victoria offering such diverse and beautiful landscapes, there's no better time to grab a tent, pack the car and immerse yourself in nature. Whether you're a novice camper or a seasoned pro, there's a campsite in and around Melbourne waiting to be discovered by you!