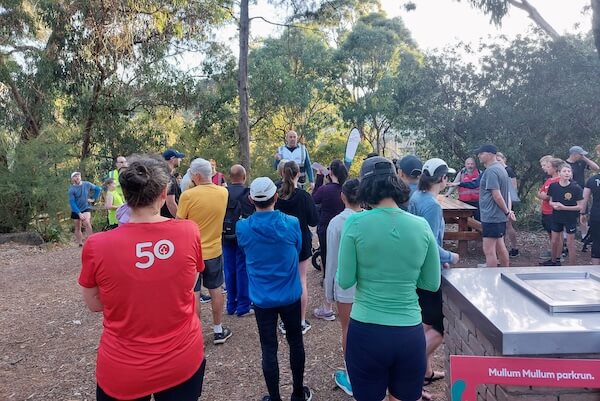 A movement began in 2004 that would change the way people approach fitness. parkrun, a free, volunteer-led event, started with just 13 runners in Bushy Park, Teddington, UK. Fast forward to today, and it has blossomed into an international family of six million registered participants, a testament to its power in bringing people together.
A Global Community in Green Spaces
The basics
At its core, parkrun celebrates movement, community, and personal achievement. Held in picturesque parklands every Saturday morning, these events are open to everyone, regardless of age or running ability. Whether you're a seasoned Olympian, taking your first steps in running, or looking for a friendly atmosphere for your Saturday steps, parkrun welcomes you with open arms. It's not just a run; it's a walk, a jog, a chance to volunteer, or an opportunity to cheer others on – all within a positive, inclusive atmosphere.
Bringing Families Together
For the younger members of the community, there's the junior parkrun series, a specially designed 2k event for 4-14 year-olds and their families, taking place every Sunday morning. It's not just about the run; it's about instilling healthy habits from a young age, fostering a love for the outdoors, and encouraging families to participate together.
Get Involved
Getting Started
Getting involved with parkrun is simple.
Use our friendly search to find your local parkrun.
Complete the parkrun registration form.

Once registered, you receive a unique barcode – your passport to parkrun events worldwide.

And the best part? Once you're in, you're in. There is no need to re-register; you can participate in any parkrun event globally.
Open to All
The beauty of parkrun lies in its inclusivity. Everyone is welcome, from the young to the young at heart. Children aged 4 and above can participate in junior parkrun events, while 5k parkruns are open to all ages and abilities. The events are stroller-friendly, allowing parents to run with their little ones, fostering fitness and a sense of togetherness.
Embrace the Joy of Volunteering
Don't just run or walk; become a vital part of the parkrun experience by volunteering. Whether you're a seasoned parkrunner or a first-timer, you can step into various roles at parkrun events. This opportunity is a chance to give back to the community and expand your skillset, make new friends, and become a cherished part of the parkrun family. You don't need any prior experience to get involved. Plus, every time you volunteer brings you one step closer to official parkrun milestones, honoring your commitment to this incredible movement.
Participating with your furry friend
At parkrun events where dogs are welcome, one dog per parkrunner is allowed, but with specific conditions. The dog must be on a short, handheld, non-extendable lead, and you should stand back during pre-event briefings if your dog tends to bark. For safety, participants with dogs should position themselves at the start line according to their predicted finish time. It's important to keep your dog under control and clean up after them. Remember, you cannot register your dog as a parkrunner – these events are strictly for humans.
As for junior parkrun events, dogs are generally not allowed to accompany walkers, joggers, runners, or volunteers, except for assistance dogs. Please respect this rule when attending these events.
If you require the use of an assistance dog at parkrun, the rules are more flexible. Assistance dogs must be clearly identifiable, and participants should notify the Run Director on arrival. In most cases, the rules for walking, running, or volunteering with an assistance dog remain the same, with no additional requirements. However, waist harnesses are generally not allowed, and exemptions must be requested from parkrun Head Office.
The priority is to ensure the safety and comfort of all participants while allowing those with assistance dogs to join in on the parkrun experience.
Navigating the Course
Course Variety
parkrun courses come in various forms – single lap, multi-lap, flat, with a few bumps – ensuring there's something for every preference. From urban parks and seaside promenades to nature reserves and open fields, the venues are as diverse as the parkrunners themselves.
Navigating the Course
While there might not be specific course direction signs at every event, participants are encouraged to familiarise themselves with the route guides on the event's website. Additionally, attentive listening to pre-run announcements and following the lead of experienced park runners and course marshals ensures a smooth run for everyone.
Respecting Park Spaces
In the spirit of harmony and community, parkrunners don't have the right of way in the parks they use. Respect for other park users is paramount. This may mean giving way to others or slowing down. Also, it is vital to be aware of cyclists, as many runs are held in shared pathways.
More Than Just a Run
parkrun isn't merely a 5k – it's a global phenomenon that exemplifies the power of community and the joy of movement. It's a testament to the idea that fitness knows no boundaries and that everyone can find a place in the parkrun family regardless of age, ability, or background.
So, whether you're lacing up your running shoes for the first time, pushing a stroller, or cheering from the sidelines, parkrun welcomes you. Find your local park run, join this vibrant community, experience the camaraderie, and be part of a movement touching hearts and bringing smiles to faces worldwide. Because at parkrun, it's not just about the run; it's about the journey, the people, and the shared moments that make it an unforgettable experience.
FAQ
What is parkrun?
parkrun is a free, community event that takes place every Saturday morning. It offers the opportunity for people to walk, jog, run, volunteer, or simply spectate a 5-kilometer course. In addition to the regular parkrun, there is also a junior parkrun, a 2-kilometer event specifically designed for 4-14 year-olds and their families, taking place every Sunday morning.
Who can participate in parkrun events?
Everyone is welcome at parkrun events. They are designed to be positive, welcoming, and inclusive. There are no time limits, and no one finishes last. 2km junior events are for kids 4 to 14 years old. You can walk, jog or run the course.
How can I find my local parkrun?
Finding your local parkrun is a straightforward process. Simply use our activities search to find parkrun and other running groups near you.
How do I register for parkrun?
Registering for parkrun is easy and open to individuals of all ages and running abilities. To get started, visit parkrun.com/register. Fill out the registration form, and once completed, await your confirmation email. This email will contain your personal barcode, which you should print out and bring with you when you participate. Once registered, you remain registered for life, and you can participate in parkrun events anywhere in the world without the need to re-register. There is no need to RSVP for individual events; simply turn up at the parkrun. Ensure you arrive early to allow time for parking, find the starting line, and hear the instructions before the run.
What should I do on the day of a parkrun event?
Once you've registered and have printed out your personal barcode, all you need to do is show up and be ready to participate. Before you arrive, it is advisable to familiarise yourself with the course. parkrun also has volunteers and road markings to help guide you.
Make your way to the start area and be ready to participate at the specified start time for your event. Allow enough time for parking, getting to the start line and for the run director's pre-run safety announcements, The Run Director may make important safety announcements before the start, so please listen carefully, as these instructions may vary from week to week.
As you cross the finish line, your time will be recorded, and you will be handed a position token.
Do I have to wear a bib with my participant number?
No, there are no numbers to wear, safety pins, or fuss. All you need is your scannable barcode.
Can children take part in parkrun events?
Yes, children are encouraged to take part. However, they must be aged 4 and over to register and obtain their own barcode. To register, please visit the parkrun website. If you are registering a child for someone else, please check the policy on registering others. Please note that juniors must be able to complete the course themselves to have their barcode scanned. You are welcome to join them in the junior event, but you cannot scan your barcode at the end.
Can I run with a pushchair or pram/buggy at parkrun events?
Yes, prams are allowed at the 5-kilometer parkrun events, but this is subject to course conditions. Prams are also allowed at junior parkrun events, subject to course conditions, but only if the adult pushing the pram accompanies a junior participant. However, it's essential to check the course page of the local event website or contact the event team through their provided email address, which can be found at the bottom of the event's website, as there may be restrictions in some locations. When running with a pushchair or buggy, please take care of other participants around you. Starting from the back of the field and staying to one side of the main body of participants is encouraged. It's important to note that only those individuals who complete the course under their own effort will receive a finish position. Participants too young to run will have to wait until they are old enough to run it.
When do parkrun events take place?
5k events are held every Saturday morning. 2k Junior events are held on Sunday mornings
How is the weather factor into parkrun events?
parkrun events typically run in most weather conditions. However, events may be cancelled if the weather is deemed unsafe, such as in the case of icy conditions or very strong winds.
Events can also be cancelled if another activity or event occurs on the course. To check for upcoming cancellations, please see the cancellation list on the event's website.
Can I participate in a parkrun event with my dog?
Yes, dogs are welcome at most parkrun events. However, dogs cannot accompany walkers, runners, or volunteers at junior parkrun events. Before attending any 5k parkrun event, please check the event website to confirm whether dogs are allowed.
Where dogs are permitted, only one dog is allowed per parkrunner, regardless of whether you're walking, running, or volunteering. Please use short, hand-held, non-extendable leads, and avoid waist harnesses.
Please stand back for pre-event briefings if your dog is prone to barking. This ensures that parkrunners can hear announcements clearly and aren't distracted. When walking or running with a dog, position yourself at the start line according to your predicted finish time.
Can I participate in a parkrun event without a barcode?
Yes, you can still participate without a barcode, but it's important to know that you won't receive a recorded time for your run.